Under the guidance of Dr. Ken Anderson, founder of the Anderson Center for Hair & Aesthetics, patients can now turn to hair restoration surgeon Dr. Daniel Lee for his expertise using the ARTAS® robot. Find him at the Center's original Sandy Springs location.
By Stacy Moser
Dr. Daniel Lee's approachable personality sets his clients at ease. Men and women alike benefit from his caring, personalized approach to hair restoration at the Anderson Center for Hair. As a general surgeon for the last two decades, Dr. Lee is no stranger to the powerful effect surgery can have on a patient's life. "I was the Chief of Surgery for Piedmont Hospital, and I also worked for Kaiser Permanente for many years," he says. "But I decided I was ready for a change. I wanted to help people in a different way." He made the leap in 2017 from the more corporate world of healthcare to private practice as a colleague of Dr. Ken Anderson, a board-certified plastic surgeon and founder of the Anderson Center for Hair & Aesthetics.
With Dr. Anderson performing life-changing hair-restoration surgeries using state-of-the-art techniques at his new Avalon location, he's equipped Dr. Lee with the tools he will need to helm the Sandy Springs office.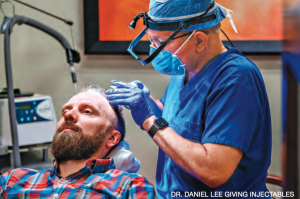 "When Ifirst met him, Ken talked a lot about why he loved this type of surgery. It was very intriguing. It was what I was looking for," Dr. Lee recalls. "I trained side by side with him for over a year—I've been trained by a master. He's the best, certainly, in the city of Atlanta. His reviews show that clearly."
The atmosphere at Anderson Center for Hair drew him to the job, too. "It's a practice with an intimate setting—we all feel like family. And in many other hair-restoration practices, patients don't actually meet the surgeon. Here, we believe it's our privilege to counsel patients and educate them about their options. There is no 'hard sell' involved. We don't pressure people to sign up for a procedure. As a matter of fact, patients we meet with are usually really excited to get started, and we have to slow down to make sure they understand each step of the process. Nothing is rushed — there's plenty of time to interact, to make sure questions are answered." He also says Anderson Center for Hair's location in Sandy Springs, close to Highways 400 and 285, "has ample free parking and is super convenient for our patients from Intown and Midtown."
One of the crown jewels of the Center is the groundbreaking ARTAS® robotic hair restoration system, a highly specialized tool that the surgeons use to extract hair follicles from areas on the head that are immune to baldness so they can be "planted" in areas affected by hair loss. The Anderson Center for Hair was the first practice in Georgia to treat patients with this procedure in 2013. "The surgeon is there for the complete extraction, operating over the robot to extract individual hair follicles. Other practices leave that job to technicians. And, unlike in other practices, we each only schedule one surgery daily, so we can focus exclusively on that one patient," Dr. Lee explains.
Although results don't happen overnight, "A patient recently told me he has more confidence in front of others now," he says proudly. "The opportunity to help someone improve their life is very rewarding."
Dr. Lee is actually a "transplant" himself, having moved to Georgia over 20 years ago from New Jersey. "I finished my medical training in the Air Force," he says. "They sent me to Robins Air Force Base, 100 miles south of Atlanta. It's funny — a friend asked me if I knew where that town was, and I answered that I didn't even know where Georgia was!" He says he's thankful his career brought him to Atlanta. Now, he's an avid Braves baseball fan and enjoys taking his beloved rescue pup, Hero, to Piedmont Park to see the sights.
Give Your Hair a Workout
Dr. Lee says, "Surgical procedures aren't always necessary. We offer state-of-the-art remedies that can create the change you're looking for."
Laser Light Cap. "It's like sending your hairs to the gym. Its diodes emit laser light that's absorbed by follicles, stimulating cells to increase hair growth. In six minutes a day—the time it takes to brush your teeth—you can wear this cap and boost follicle activity."
Platelet Rich Plasma Injections. "These nutrients work like fertilizer for your hair follicles."
Propecia. "It's a bodyguard for your follicles. This medication blocks a compound that speeds up hair loss."
AtlantaHairSurgeon.com, 5555 Peachtree Dunwoody Rd., Ste. 106, 404-256-4247.
The content for this article is brought to you by Anderson Center for Hair.