by Alexandra McCray
For Dr. Zachary Levin, orthodontics is more than a career — it is the ultimate way to connect with others while enhancing their confidence and health. "I'm a people person. I love interacting with kids and adults. I love knowing who my patients are, where they're from, what sports they play, and where they plan to go to college," Dr. Levin says.
Maintaining that bond while providing the best possible care is what led him to establish Levin Orthodontics in 2019. After years in the field, the Tulane/Boston University/Tufts graduate knew founding his own private one-doctor practice would allow him to truly put patients first. As a third-generation orthodontist following the path of his great-uncle and late father, Dr. Levin understands the importance of a personal touch, which is evident to patients from their first interaction with him and his staff. "At my office, the person you speak with on the phone is the person that greets you at the front desk. We pride ourselves on knowing everybody that walks through the front door by their first name and where they just went on vacation," he says.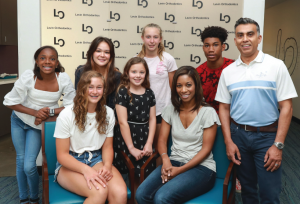 The Florida native is as proud to be a small business owner in the East Cobb community as he is committed to orthodontic excellence. That dedication led Dr. Levin to undertake the rigorous credentialing of becoming board-certified, a distinction held by only 30% of orthodontists. It is with this same drive that he continually evolves his practice to offer the most innovative treatment options, prioritizing comfort, efficiency and affordability.
In fact, Levin Orthodontics is the only practice in Cobb County to offer InBrace, an advanced system in which braces are placed behind the teeth for a completely invisible treatment option. "InBrace wires are customized to the patient and bent by computer-guided robots. Then, the behind-the-teeth braces are placed at our office. Treatment time has been dramatically decreased with minimal demands on patient compliance as compared to other orthodontic options. There is absolutely nothing on the front of your teeth," Dr. Levin explains.
He also handles more Invisalign® cases than any other private orthodontic practitioner in East Cobb. Dr. Levin touts the many benefits for adults and youngsters alike, including increased accessibility for brushing and flossing, no potential for broken brackets or pokey wires, and the freedom to eat and drink anything while in treatment. Many people are often astonished that kids and teens are surprisingly reliable Invisalign patients (even more so than their parents).
The growth of his practice would not have been possible without the support of the community, which is yet another reason Dr. Levin is passionate about giving back. Through his practice's Love Your Smile, Love Your Neighbor initiative, he has partnered up with local schools and organizations such as Walton High School, Mt. Bethel Elementary and East Side Baseball. To him, East Cobb will always be more than just an area he serves. "This community has embraced me as one of their own, and I look forward to 'bracing' them in the years to come."
Details: Levin Orthodontics, levinortho.com, 1229 Johnson Ferry Rd., Ste. 100, Marietta, 770.952.5255.