Local East Cobb developer, Patrick Clark, has been developing award-winning communities for over 30 years. As a 35-year resident of East Cobb, Patrick saw a unique opportunity right in his own back yard for a luxury, maintenance-free 55 and Better community in the heart of East Cobb. With aging parents living in another state, the concept held a very personal appeal. "I was familiar with the proposed location as it is immediately adjacent to The Wood Acres school campus that my son Kevin attended," says Patrick. "In addition to my son attending the school, the original owners of Wood Acres, Dave and Kay Clark, were our neighbors and very dear friends. "The school is nestled into a peaceful setting reminiscent of the school my mother taught at for 40 years back in Michigan. With my mother now retired, it dawned on me that a neighborhood bordering such a quiet and serene setting would be very appealing to her and others like her.
"As East Cobb grew over the years, I noticed there are few options to downsize to a new luxury home with all the newest styles and conveniences. The combination of addressing this housing need by. creating a neighborhood that compliments the area and the hope my parents would eventually find their way to Georgia was the inspiration for creating East Haven," he explains.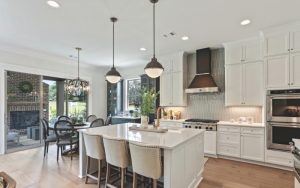 Priced from the mid-$600s, East Haven is an intimate enclave of 28 townhomes (only 15 remain) with three acres of common area including a dog park, private pool, cabana with outdoor kitchen and firepit. East Haven's luxury features and designs are unique and unlike typical townhomes in the area. The majority of the homesites feature large dedicated backyards and back up to beautiful and protected Cobb PHOTOGRAPHY BY (LEFT, RIGHT TOP & BOTTOM) ENRIQUE SAMSON. wooded areas perfect for furry friends or visiting grandchildren.
The exteriors are rich with detail and the elevations of each home are individually staggered to follow the natural topography of the community. By design, the interiors are spacious and grand, offering the flexibility of custom designs for media/game rooms, refreshment centers, as well as additional bedrooms with morning kitchens. Elevators are available in all homes. In addition, the community offers the exclusive Safe Haven Program, which provides buyers with a host of air purification and wellness features designed to overcome today's challenges with outside contaminants. From split systems offering room isolation, to air purification systems that can stop 90% of viruses, to touchless faucets and built in hand sanitizing stations, each homeowner can customize the program to their specific needs.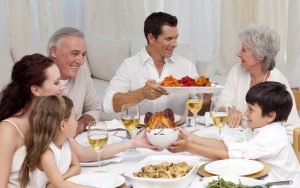 A unique neighborhood surrounded by local amenities and services with unparalleled access to The Avenue East Cobb, the Chattahoochee River and two new medical campuses has proven to be a winning combination. East Haven has been extremely popular with local buyers looking to remain in the East Cobb area and to the out-of-state buyer looking to move closer to family.
At East Haven, living a rich and active lifestyle doesn't get any easier than this. Tour our decorated model or visit our website at
www.EastHavenCobb.com.
For more information, call (404) 238-7990 or visit our sales center at 4241 Bishop Lake Road in Marietta.
Details: East Haven, www.easthavencobb.com, 4241 Bishop Lake, Marietta. 404.238.7990
Sales and Marketing by Berkshire Hathaway HomeServices Georgia Properties New Homes Division. Equal Housing Opportunity.