Foodies can look forward to

more flavorful Mediterranean-Mexican fare at Botica's

exciting

new location opening this fall
By Jennifer Colosimo
Opening a restaurant in the middle of a pandemic may seem like quite the leap of faith. But to Mediterranean-bred chef Mimmo Alboumeh, it sounded perfect. Opening Botica Atlanta was his chance to show Atlantans what his cooking was really all about—a spicy, vibrant blend of Mediterranean influences and classic Mexican cuisine. And, spoiler alert, they loved it. In fact, as the chef, founder and CEO finds his one-year stride at his original location, he's turning up the heat by building a new second location, set to open at Phipps Plaza this fall.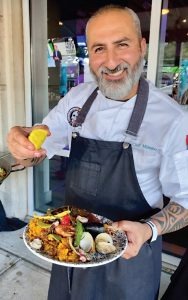 Q: You've been a successful restauranteur for more than 20 years. What inspired your decision to open Botica?
Mimmo Alboumeh: It was time to create a new chapter and incorporate the many cooking influences of my upbringing. I was excited to build something new—a new location, a new vibe, a new crowd. My main concern was getting all of the furniture and equipment in following the pandemic shutdown, but I believed in my team, my vendors and myself, and it worked. We had no choice; we had to make it happen. I am blessed with an amazing, dedicated and loyal leadership team and staff. Their unconditional commitment is what makes the difference.
Q: Your paella is famous. What's the secret?
MA: My paella is seafood heaven, loaded with fish, shrimp, octopus, squid, lobster, clams and mussels. The star ingredients are saffron and Spanish rice, and the inspiration is love. I love seeing people gathering to enjoy it, scraping the bottom of the pan for the socarrat—the crispy caramelized rice on the bottom of the pan—and truly savoring it.
Q: What's your other favorite dish on the menu?
MA: Our octopus is tender and hearty, and the fun part is that it's prepared al dente. It's the flavor of the ocean and slowly cooked in a specially prepared brine and later chargrilled and served with crispy potatoes and peppered aioli. I love it paired with Lolea Sangria Albarino wine.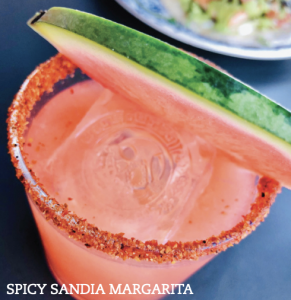 Q: Speaking of libations, is there a purposeful curation to the cocktails on your menu?
MA: Yes, tequila and wine are the stars. Our mixologists have crafted a cocktail menu designed to pair perfectly with our menu and to fit everyone's taste buds. We have more than 40 wines by the glass, which complement each of our dishes. However, the crowd favorite is the Spicy Sandia Margarita, made with fresh watermelon juice and spices.
Why did you decide to open a second location?
MA: It was simply demand. We got great feedback from our guests and heard that people in north Buckhead or Brookhaven wanted us closer to them.
Simon Properties, the owners of Phipps Plaza, came to us and presented a plan, and that made it easy to decide.
Q: What can loyal Botica fans expect from this new spot?
MA: Botica at Phipps Plaza will be our flagship store since we are building in a new, raw space. The menu will be ever-evolving, showcasing new seasonal dishes and drinks. It will have a bigger patio and unique design elements. The adrenaline is high! I am excited about doing new construction and the building process, and about the fact that we'll be able to create more jobs, impact more lives, and support other neighborhoods and more local charities.
Q: What do you want people to experience at Botica?
MA: We want our guests to enjoy the warm and welcoming energy, the fun vibe and the passionately prepared food and drinks created for them. Families, groups of friends, foodies—we want them to make Botica their weekly or monthly destination. We want them to come back for many reasons and order something new from the menu.
Botica, eatbotica.com, 1820 Peachtree Rd. NW., Atlanta, (404) 228-6358.
The content of this article is brought to you by Botica.
---
Mimmo's "Ode to Mi Abuela

"
Chef Mimmo Alboumeh was born in Lebanon, but grew up in Spain and spent time in Italy before moving to Georgia. Added to a Mediterranean upbringing, he learned the art of Mexican cuisine right here in Atlanta, and put his stamp on the culinary scene by blending it with his own culture.
"My passion for cooking comes from watching my abuela [grandmother] in the kitchen, and I still love it today because it makes people happy," he says. "Cooking is fun and something you must enjoy if it's your profession."
Most likely, his grandmother taught him it's hard to please a lot of people at the same time, but Mimmo loves that particular challenge. And honors her by surpassing it.